Thank You, Barbara "Bobbi" Stoutenburgh!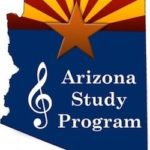 Thank you x 1,000,000 to outgoing Arizona Study Program Chair, Barbara Stoutenburgh
Click here for a YouTube video interview by ASMTA President, Kassandra Weleck, with Barbara Stoutenburgh. 
General Information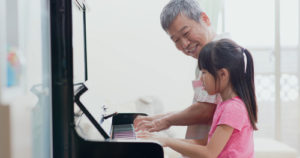 The Arizona Study Program (ASP) was started in 1958 to provide a consecutive and comprehensive plan of music study for piano designed to motivate and encourage the student to strive for growth and excellence.
The Arizona Study Program is a 12-year graded course of study developed by ASMTA to provide for the development of musical Performance, Theory and Technique.
It is organized in terms of the twelve years of public school, with one level for each of the years a student would be enrolled in school. It requires continual work throughout the year and is evaluated each spring by a master adjudicator and a written theory test.  
ASP Committee 2023-2024
ASP Local Chairs
Evaluation Dates
| | | |
| --- | --- | --- |
| Local Association | Date | Location |
| CMTA | May 3, 2024 | Cochise College |
| EAMTA | April 27, 2024 | Eastern Arizona College |
| EVMTA | May 10-11, 2024 | Arizona State University |
| NAMTA | May 17, 2024 | Northern Arizona University, Kit School of Music |
| PMTA | May 17-18, 2024 | Glendale Community College |
| TMTA | May 11, 2024   | University of Arizona |
Overview of Process for Participation in ASP
If you are a teacher interested in participating in the Arizona Study Program, detailed instructions and eventual evaluation results are given by way of three (3) packets: 
Packet 1:
Found here and in your local MTA yearbook, Packet 1 contains the Parent Letter, General Information, Teacher Instructions for Online Enrollment, ASP Indemnity Agreement (PMTA), Student Program Form and Materials Order Form and Highlights. 
Note:  Effective July 1, 2023!  There has been an increase of all ASP materials by $5 per item, except previous tests and answers which will increase $1.00.
Please select your local association to download your Packet 1 (in PDF format) —
Unaffiliated and Student Members: To access enrollment information, please select the local association above where your students will be evaluated
Fillable Forms from Packet 1:  The fillable PDF forms are being provided here for your convenience.  For instructions regarding these forms, see Packet 1 which is posted on this web page in September or October 2022.  
Packet 2:
Distributed in late-March or early April by each local association, Packet 2 contains:  further teacher instructions and scheduling; instructions for parents; Confidential Report Form; Student Evaluation Form; Release Form & Reminder Notice; Senior Level 12 Letter.
Fillable Form from Packet 2:   The fillable PDF forms are being provided here for your convenience.  For instructions regarding these forms, see Packet 2 which will be emailed to teachers in late March or early April. 
Packet 3:
Distributed in May, Packet 3 contains evaluation results and awards.
Enrollment Information
ASP Help Videos: 
Grants
Janice McCurnin Teacher Enrichment Grant
Janice McCurnin Certification Grant Program
Teacher Enrichment Grant Recipients
2013     Karen Stahl 
2021     Kassandra Weleck, NCTM