NCTM (Nationally Certified Teacher of Music)
ASP (Arizona Study Program participating teacher)
Interviewing Music Teachers
To find a good teacher/student fit, a personal interview is important. Here are some suggested questions: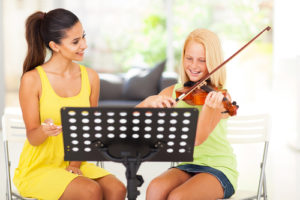 What method (i.e. what type of instruction books) do you use?
How long are lessons?
What are your practice and performance requirements?
Do you hold recitals?
How much is tuition?
Do their students participate in local, state or national competitions? Has the teacher had any winners?
Discuss your goals as a student to determine if the teacher finds these goals achievable.
Do your students participate in the Arizona Study Program?
How do you approach a student "like me"? (beginning, intermediate, old, young, transfer, etc.)
What is your approach to teaching theory, sight reading, and keyboard harmony?
Do you teach musical styles such as jazz, improvisation, traditional, electronic, etc?
Can you provide some names of students as references?
---
Other Teacher Referral Services
Referral services are also available from the following ASMTA local music teacher associations:
Cochise (CMTA) Teacher Referral Service
Website: cochisemusicteachers.org/Home/FindATeacher
East Valley (EVMTA) Teacher Referral Service
Email: info@myfirstpiano.net
Website: myfirstpiano.net/teachers-network/
Website: evmta.org/find-a-teacher/
Phoenix (PMTA) Teacher Referral Service
Peggy Rostron
Phone: (602) 466-5283
Email: blackeystudio@gmail.com
Website: http://phoenixmusicteachers.org/find-a-teacher/
Tucson (TMTA) Teacher Referral And Information Line
Phone: (520) 749-3074
Website: www.tucsonmusicteachers.org
This page was updated November 10, 2021 for "Active" teachers on Find-a-Teacher (and Membership Directory).